April-15-2021 in Banking & Financial Services, Healthcare Law, Litigation & Dispute Resolution, Media Law, Property, Advertising and Marketing Law, Commercial & Business, Corporate, Data Protection, Employment Law, Insolvency & Restructuring, Insurance, Intellectual Property, Mediation, Public Sector, Regulatory & Administrative Law, Technology, Sports Law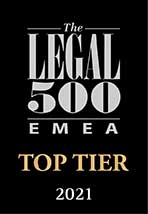 Hayes solicitors LLP has again been recognised in the latest edition of leading international legal directory The Legal 500. Here you can read what some of our clients had to say:
---
Commercial, Corporate and M&A
'A one-stop shop for foreign companies with a presence in Ireland. Very reachable and hands-on approach.'
'They understand our business. They will go that extra mile to ensure they deliver what we require. They respond quickly, sometimes at very short notice, and follow up afterwards.'
'Throughout my dealings with Hayes, I have found that the timeliness of responses and the information provided has been to a high standard at all levels.'
'Ken Casey and his team were very helpful. Sabrina Burke was especially attentive and supportive to the process. Ken deserves many accolades for his support in negotiations, keeping the project focused, tempering emotions and managing expectations throughout the process.'
David Phelan, Ken Casey, Laura Fannin and Sabrina Burke recommended.
Ken Casey is listed as a Leading Lawyer.
---
Dispute Resolution
'Very responsive, thorough and always extremely well-prepared and professional. Gives 100% attention.'
'This practice has a unique ethos, in my view, in terms of the service it provides. It has a very experienced team and the junior members of the team have support at all times. Cases are always very well prepared, organisation is key and nothing is left to chance. There are very adroit lawyers on the team who work very well with counsel. The client gets a very well rounded service. The team has a strong ethical sense and approaches litigation in that context but also with a practical approach.'
'David Phelan always shows great wisdom, I have come to hugely value his judgement. David has great grasp of the legal detail, and also can stand back and invariably brings excellent overall perspective to a situation.'
'Hayes Solicitors' dispute resolution team are extremely professional in their approach, possess extensive experience, have vast in-depth knowledge, and approach each case thoroughly, leaving no stone unturned.'
'Joe O'Malley is a first class litigation solicitor.'
Joe O'Malley, David Phelan, Caroline Crowley, Louise O'Rourke, Mary Hough, Matthew Austin, Stephen McGuinness, Martha Wilson, Katy Meade and Robbie Slattery recommended.
Joe O'Malley is listed as a Leading Lawyer and Robbie Slattery is listed as a Rising Star.
---
Employment
'Breda O'Malley is very practical. You can tell that she has synthesised the personal issue, the legal analysis and strategy to provide advice that you can action. She sees the relationship, rather than seeing the person in a transactional manner. Other employment lawyers I know are fixated with the deal or their win. For this reason, I have recommended Breda to other colleagues.'
'Hayes respond fast, their responses are to the point, and their advice is practical. Having used Hayes for the last seven years I completely trust any advice they give'
'Breda O'Malley is just fantastic, I have over 25 years of HR experience and have dealt with many employment legal professionals in that time and Breda is by far the best.
'Hayes is an efficient, responsive and supportive practice providing clear and concise advice across a range of HR issues and employment matters. Hayes is our practice of choice.'
'Breda, Anne and all the team tune in to the human, as well as the legal and risk, dimensions of a situation. They are commercially and client sensitive and they will always seek an early resolution of an escalating situation, for the benefit of all involved.'
Breda O'Malley and Anne Lyne recommended.
---
Healthcare and Life Sciences
'High-quality legal firm with a fully professional service. In all my dealings with Hayes solicitors I have found them to be competent, efficient, personable and very discreet.'
'I have dealt with many solicitors at Hayes, from trainees to senior partners. I have never been disappointed: professional, good knowledge of the subject matter, personable, efficient, accommodating and effective.
'Hayes solicitors healthcare and life sciences team are extremely professional in their approach, possess extensive experience, have vast, in-depth knowledge, and approach each case thoroughly, leaving no stone unturned. They are a top-tier firm in the industry.'
'Very strong partners, very keenly aware of clients' needs, forensic on detail and good at strategy. Very focused towards achieving the end results and know cases inside out.'
Mary Hough, Caroline Crowley, Louise O'Rourke, Kevin Dunne, Stephen McGuinness, Martha Wilson, Katy Meade, Conor Morgan and Lyn McCarthy are recommended.
Mary Hough and Caroline Crowley are listed as Leading Lawyers and Stephen McGuinness is listed as a Next Generation Partner.
---
Banking and Finance
'Mick Hanley is clear in his advice and strong in his representation of the client's interests whilst also ensuring he is available with a view to progressing transactions.'
'The team are very commercial in their thought process. They are excellent at managing timelines and most importantly delivering an excellent service on time and on budget.'
'Hayes have a very good reputation and their banking and finance team provides a really excellent service that we can count on.'
'Catherine Jane O'Rourke is absolutely fantastic and we find her highly professional and capable in all our dealings with her. She has been consistently excellent and always goes above and beyond expectations in her work.'
'Hayes provides a senior lawyer-led service with excellent availability, providing expert advice in a succinct, commercially prudent manner.'
'Michael Hanley listens to our needs and applies a pragmatic and business-focused approach in the delivery of expert legal advice.'
Michael Hanley, Tim Waghorn and Catherine Jane O'Rourke recommended.
---
Real Estate
'Hayes solicitors was recommended to my company due to their excellent reputation in relation to property law matters. Among their strengths was the ability of the Partner to get to grips immediately with our underlying legal issue, in a very thorough manner'; 'They explain complex legal issues in plain and simple language.'
'Hayes solicitors were very much client focused. We received our legal opinion and advice letters within the agreed time period. Access to the Partner was excellent, Jackie Buckley was only a phone call away if needed. We would recommend the services of Hayes and in particular, Jackie Buckley, without hesitation.'
'Full grasp of the initial brief. Regular communication and updates on specific cases without prompting.'
'I have worked with Philip Corcoran on a number of matters and find him very approachable, no matter how big or small the matter is. Phil will always hold a call to discuss and understand the matter prior to giving advices, which I like. He is always very responsive and is practical in his solution approach.'
'Jackie Buckley is exceptional – she is extremely knowledgeable, diligent, calm and client focused. I would describe her a real expert in her field and she became a trusted advisor to our organisation.'
Jackie Buckley and Philip Corcoran recommended.
---
Public Sector
'This practice is large and competitive, yet when dealing with the firm you feel that it is intimate, bespoke and individualised. This is how it differs from other large competitive Dublin firms that I have engaged with. I have experienced it as utterly client centred and responsive. Also, my experience is that when you engage a partner, you get a partner – the work is not passed on to far more junior people once engaged.'
'I would like to mention a standout partner: Joe O'Malley. His knowledge of his area of expertise is second to none. Joe listens to issues with intent, and allows clients and colleagues to participate fully and to feel they have been heard. Joe is exceptionally skilled in drawing together diverse views and difficult issues and charting a cogent way forward that is informed by the client's needs and the law. Joe is an excellent draftsman who can make complex issues accessible to clients. While reasonable and mild mannered, he does not shy from being firm and forthright where circumstances require.'
'Very comprehensive in the analysis of information and legal advice with a strong attention to detail.'
'Jackie Buckley is exceptional. She is extremely knowledgeable, through and efficient.'
Caroline Crowley, Joe O'Malley, Jackie Buckley, Breda O'Malley, Mary Hough, Louise O'Rourke, Matthew Austin and Jeremy Erwin recommended.
---
Media and Entertainment
The depth of expertise of the team is what makes them stand out in the media arena together with a very commercial and collaborative approach.'
'David Phelan is a stand out. He is commercial and easy to work with while having a breadth of legal knowledge. He is able to get transactions over the line.'
'Attention to detail, thoroughness on the law, integrity, promptness of service.'
'David Phelan and Joe O'Malley both demonstrate legal competence, breadth of knowledge, speed of advice, and attention to detail.'
David Phelan and Joe O'Malley recommended.
David Phelan listed as a Leading lawyer.
---
Data Privacy and Data Protection
'Very professional in their advice to clients'; Expert knowledge of solicitors in safeguarding and data protection.'
'The team takes a practical approach to matters and have a wide range in the legal areas provided. This allows you to have a "one-stop shop" for your requirements.'
'A straightforward approach to addressing queries and providing clear answers understanding the the differences that exist in our industry and applying advice practically.'
'They have been very personable and have looked to address the issues in a way that ensures you can do your business.'
'Laura Fannin and Matthew Austin developed a comprehensive understanding of our industry in order to better advise for our particular issues. Their knowledge is exceptional and it is delivered in a clear and understandable manner.'
Laura Fannin and Matthew Austin recommended.
---
Insolvency and Corporate Restructuring
'The team at Hayes are superb when it comes to complex and contentious insolvencies. They have great depth in the team. They have that elusive quality that all clients want in their lawyers – they win cases.'
'Joe O'Malley is an excellent lawyer. He knows litigation and the court system backwards. He has a great ability to assess the merits of a case and to predict how it will play out. He is really good on strategy. Michael Kelly is a top lawyer. His drafting and paperwork is first rate and his input on strategy is very valuable.'
'I find them very responsive when compared to some of their competitors.'
'Jeremy Erwin provides a very high level of service and is extremely knowledgeable in our service area. I find Jeremy very practical whereby he offers solutions to the problems instead of just offering problems like some of the other firms in this area.'
'A very hands on responsive and knowledgeable team.'
'Jeremy Erwin is responsive and proactive, with a good balance of technical legal knowledge paired with sound commercial advice.'
Joe O'Malley, Jeremy Erwin and Michael Kelly recommended.
---
Insurance
'The team at Hayes are recognised for their excellence. They have a very deep understanding of the legal issues, which they can converse in without sounding too technical, and are very well organised.''One of its strengths is the quality of the partners. Caroline Crowley is an exceptional solicitor. Louise O'Rourke and Mary Hough have immense experience. Stephen McGuinness is an extremely methodical solicitor. Other excellent solicitors include Robbie Slattery and Joe O'Malley, who is dynamic and progressive.'
'Hayes have a very large practice in the insured claims, in particular in the health sector. They are the pre-eminent firm in the market in that sector. They have a great deal of insight, built up over many years, into the facts of these cases, but also into the manner in which to run them, including the expert witnesses to retain. They are an invaluable resource for those with claims in this field.
'Joe O'Malley is involved in high-value insurance cases in the market for insured health claims. He works hard and understands the entirety of the case, and then brings calm good sense and tactical insight into the best way to progress it.
Katy Meade is clever and resourceful, with a great ability to get to the bottom of the problem quickly and come up with a solution.'
'Communication between team members is excellent. Louise O'Rourke, Mary Hough, Martha Wilson and Robbie Slattery stand out – the quality of their work is remarkable.'
Joe O'Malley, Mary Hough, Caroline Crowley, Louise O'Rourke, Stephen McGuinness, Martha Wilson, Katy Meade, and Robbie Slattery recommended.
---
Intellectual Property
Advertising agencies, retailers, and media organisations are among the clients that Hayes solicitors LLP advises on intellectual property matters.
The practice is particularly active in handling the IP aspects of corporate and commercial transactions.
David Phelan, Joe O'Malley, Laura Fannin and Jeremy Erwin recommended.
Back to Full News
---
Share this article:
---