April-13-2022 in Banking & Financial Services, Healthcare Law, Litigation & Dispute Resolution, Media Law, Property, Advertising and Marketing Law, Commercial & Business, Competition Law, Corporate, Data Protection, Employment Law, Insolvency & Restructuring, Insurance, Intellectual Property, Mediation, Public Sector, Regulatory & Administrative Law, Technology, Sports Law, COVID-19, Partnership Law, Construction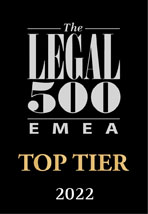 Hayes solicitors LLP has again been recognised in the latest edition of leading international legal directory The Legal 500. Here you can read what some of our clients had to say:
---
Commercial, Corporate and M&A
'They have the experience to match the tasks that I needed from them in the corporate area and they completed those tasks in a thoroughly professional manner.'
'The Hayes team have supported us in a number of areas including M&A and Commercial Contracts. They have always been extremely responsive and focused on our matters and delivered to extremely tight deadlines.'
'Partner input at all times.'
'Personal down to earth approach.'
'Well regarded for M&A. Ken Casey came recommended to us by respected solicitors in other fields. Willing to explain legal fees to expect in the sale of our business. At a granular level, highlighting where savings may be available.'
'Ken Casey was exceptional. Approachable and pragmatic in negotiations, avoiding prolonged debate with the other side on minutiae. Encouraging and always available when we needed him. Literally day and night, as were the team.'
'Ken Casey – highly knowledgeable corporate lawyer with a strong commercial focus. Excellent guidance to clients on complex legal matters and transactions.'
'David Phelan and Laura Fannin are supportive, practical and pragmatic, with deep roots in the local market.'
David Phelan, Ken Casey, Laura Fannin and Sabrina Burke recommended.
Ken Casey is listed as a Leading Lawyer.
---
Dispute Resolution
'Hayes Solicitors offer a very skilled team of lawyers who have vast expertise in dispute resolution.'
'They are very astute negotiators and are careful to stay balanced, focused and in control during the process. The team in Hayes have vast experience across all aspects of law and meeting clients' needs.'
'Very responsive and client focused. Always willing to listen to clients and always keep clients apprised of developments in cases.'
'Joe O'Malley is top class. Highly experienced, extremely diligent and always courteous.
'Jeremy Erwin has a vast amount of experience in this area and is extremely capable and thorough. He knows cases inside out and is always very responsive and well prepared. He is exceptionally personable and grounded and is always a pleasure to deal with. I would highly recommend instructing Jeremy for any litigious matter.'
'Jeremy Erwin is also excellent. Hard working and focused on getting the right result for the client.'
Joe O'Malley, David Phelan, Caroline Crowley, Mary Hough, Matthew Austin, Jeremy Erwin, and Robbie Slattery recommended.
Joe O'Malley is listed as a Leading Lawyer and Robbie Slattery is listed as a Rising Star.
---
Employment
Practical approach to client issues, expert knowledge in employment issues, availability of key team members. Transparent billing and collaboration with client.'
'Accessibility to partners and legal experts. Focused approach, works with the client to seek best dispute resolution approach, provides confidence and reassurance of legal position, particularly note Breda O'Malley for providing excellent service.'
'The firm is client focused and it is excellent at building relationships, understanding the organisations' needs and demands. Takes a holistic view in relation to complex legal matters and the outcomes required for the business.'
'Anne Lyne is exceptional within her field. She is quick to assess a given situation and gives clear, practical advice based on an expert legal knowledge.'
'The team is strong and very approachable. They always take time to go through different options until we feel what is most suitable to us. Always reply to emails in a timely manner. Their experience and knowledge both separately and collectively is so valuable to us. We have trust in the team at Hayes.'
'Excellent and expert advice given in a very clear, concise and understandable manner. All possible legal options considered and outlined. Open and transparent with billing. Kept up to-date on matters as they progress.'
'Expertise, friendly, ease of access, availability, ease of communication, transparency and accuracy of billing.'
Breda O'Malley and Anne Lyne recommended.
---
Healthcare and Life Sciences
'This practice provides an excellent service to their clients. The team are all very professional and helpful. Their knowledge of the healthcare sector and experience in dealing with claims on behalf of the HSE supersedes other practices.'
'Hayes have a long tradition in the management of medical negligence litigation and the firm is one of the most trusted firms in the defence of medical negligence claims. In addition, Hayes have established a first class reputation with hospitals' medical staff and medical experts and this is a great ease to the client. Each of the team is accomplished in the defence of medical negligence cases and it is this strength in depth which places Hayes as the leader in the field of medical negligence law firms.'
'In Hayes, its partners deal with litigation and each of the partners is suitably well-skilled in the defence of medical negligence litigation. Also, Hayes has a tremendous support team to assist the partner managing the litigation. One couldn't but have great confidence in this firm and the manner in which it manages litigation.'
'Experience and knowledge of their field of specialisation.'
'Hayes Solicitors offer an excellent team of highly skilled and experienced lawyers to provide services in the Healthcare and life sciences sector.'
'The team are extremely professional and highly skilled. They have a vast depth of experience and are aware of how to adequately meet their clients' needs.'
'Excellent team, Caroline Crowley, Mary Hough, Martha Wilson, Katy Meade, all great to work with, client management superb and always on top of their brief.'
Mary Hough, Caroline Crowley, Louise O'Rourke, Kevin Dunne, Stephen McGuinness, Martha Wilson, Katy Meade, Conor Morgan and Lyn McCarthy are recommended.
Mary Hough and Caroline Crowley are listed as Leading Lawyers and Stephen McGuinness is listed as a Next Generation Partner.
---
Banking and Finance
'Always available for a call to chat through a proposal. Very knowledgeable, Good commercial acumen.'
'Excellent team with relevant expertise. Always available and go over and above for their clients.'
'Tim Waghorn & Mick Hanley – very personable. Commercially minded.'
'I have worked most recently with Danny Heffernan and found him to be excellent – very responsive and helpful.'
Michael Hanley, Tim Waghorn and Danny Heffernan recommended.
---
Real Estate
'Hayes' real estate team were very effective in completing our recent lease transaction. Communication was excellent throughout and the team were proactive and always available. Very pleasant to deal with and good value for money.'
'In-depth knowledge and experience in dealing with property matters. Ability to respond promptly to requests for advice. Very easy to deal with and explain the process clearly.'
'The individuals in the team are very willing to help out at short notice and provide valuable advice. They will always detail the pros and cons when deciding to take any action and there is always a sense that they care about the client. I have a lot of experience dealing with Jackie Buckley and would always value her advice. She has constantly demonstrated a clear-thinking, professional manner in dealing with various property issues.'
'Flexibility, commitment, communication and availability has always been excellent. Access to partners has been readily available and always in a professional and courteous manner.'
'Jackie Buckley is very experienced and commercially aware. Very knowledgeable and responsive.'
'Due to Covid-19, most of our contract negotiations took place during lockdown or limited easement of restrictions. Hayes could not have been more accommodating, flexible and proactive in facilitating virtual meetings between some or all parties, video calls, signing of documents and witnessing of signatures, while all the time maintaining full professionalism even though it must have been very challenging with individuals working from home. It would have been very easy for our project to come to a halt but Hayes kept it all going.'
'Camilla Leigh has excelled in her management of our deals despite the ever-changing directions we are taking. She has made herself available while on annual leave and nothing is ever a problem for her. I don't get any problems, only solutions, which is what I want from my solicitors.'
'Fiona Shipsey was excellent throughout the transaction and was extremely proactive in chasing the other side to complete the transaction on time. Her communication was very clear at all stages and her advice was always tailored to meet our business needs.'
Jackie Buckley, Fiona Shipsey and Camilla Leigh recommended.
---
Public Sector
'Very client focused, responsive and knowledgeable.'
'Jackie Buckley is very experienced and commercially aware. Very knowledgeable and responsive.'
'Hayes Solicitors offer a highly skilled and expert team who can advise on a wide range of matters in the public sector area.'
'Hayes have a team of outstanding solicitors who are experts in their field. They are personable and approachable while also being efficient and professional at all times.'
'The team are incredibly organised and have a unique system of communication between team members.'
'Attention to detail and organisation.'
Joe O'Malley, Jackie Buckley, Breda O'Malley and Mary Hough recommended.
---
Media and Entertainment
'I found their expertise combined with an outstanding local network of non-legal experts (such as in accountancy and finance) meant you were always guaranteed timely, thorough and actionable advice.'
'David Phelan was outstanding. As a result of this specific project, I will be recommending our business moves more legal work to David. Working with senior partners from other firms both in Dublin and London, I had come to expect a certain degree of tardiness in responses and rarely felt our matters were a priority. David was the opposite. An expert in his field and a great communicator, he could deliver a precis on the issue at hand quickly and with clear next steps. His attention to detail meant we picked up on a potential commercial issue at an opportune moment that two other independent legal reviewers had missed.'
'It is their up-to-the-minute expertise and practical approach which makes them stand out.'
'David Phelan is calm, thoughtful and solution focused. He is a pleasure to work with and is a driver of outcomes. Matthew Austin is well experienced in media matters.'
David Phelan, Joe O'Malley Matthew Austin and Laura Fannin recommended.
David Phelan listed as a Leading lawyer.
---
Data Privacy and Data Protection
'The ability of the solicitors to advise and guide clients is outstanding; this reflects their detailed knowledge of the subject matter.'
'The solicitors we engage with are competent, able and responsive people who listen and advise wisely.'
Laura Fannin recommended.
---
Insolvency and Corporate Restructuring
'Hayes solicitors LLP and in particular its Insolvency and corporate restructuring practice have a highly experienced team with a wealth of insolvency knowledge. They consistently provide excellent commercial advice, concise recommendations based on strong legal rationale and are always very responsive.'
'An excellent insolvency team – very responsive and knowledgeable. Proactive. Good commercial/technical advice.'
'Jeremy Erwin – An excellent insolvency lawyer. Very responsive.'
'Joe O'Malley – A very experienced and astute insolvency solicitor.'
'We have worked very closely with Joe O'Malley and Michael Kelly on a recent complex and contentious case and found them to be very accessible, responsive and commercial in their approach.'
Joe O'Malley, Jeremy Erwin and Michael Kelly recommended.
---
Insurance
'Hayes Solicitors offer a diverse team of lawyers with experience and expertise in all areas of insurance litigation. They are able to draw on every skill required to meet clients' needs.'
'Hayes lawyers are unique in that they draw from incredible depths of knowledge and expertise in this area. They offer expert, innovative legal advice to insurers, reinsurers and other service providers in the industry.'
'Hayes consistently deliver for their clients in providing top quality legal advice and services.'
'Robbie Slattery is one of the best solicitors in Ireland. His analysis of cases and comprehensive approach is quite simply excellent.'
'Robbie Slattery is an excellent solicitor and also an excellent lawyer, who has an excellent grasp of complex legal issues and gives considered and valuable advice to his clients.'
'Joe O'Malley is a first class litigator. In my opinion, he is one of the best in the country in his field. He works hard and has a very good overall understanding of his cases but what sets him apart from others are his shrewd judgment and proactive approach to problem solving.'
'Joe O'Malley is easily one of the best solicitors in Ireland. He seems to have infinite capacity and always secures his clients' interests.
Joe O'Malley, Mary Hough, Caroline Crowley, Louise O'Rourke, Stephen McGuinness, Martha Wilson, Katy Meade, and Robbie Slattery recommended.
---
Intellectual Property
'I am very happy with the relationship with Hayes and find them extremely knowledgeable on matters of media law including copyright.'
'Matthew Austin is very helpful, professional and knowledgeable.'
'The Hayes team has an outstanding client service ethos that combines professionalism and attention to detail with approachability and a deep understanding of the client's business objectives. There is a consistent excellence throughout the team and a willingness to engage with routine requests as well as the more challenging, complex matters. A particular strength is the clarity of their communications and their ability to present strategic and pragmatic options in a manner which greatly helps with our decision-making processes. Hayes stands out for its demonstrable commitment to technical excellence delivered with a personable professionalism in every aspect of the practice. They choose their team members well and nurture talent in an exceptional manner.'
'Jeremy Erwin is clearly very knowledgeable, and consistently demonstrates his capacity for delivering strategic and practical advice in an accessible and timely manner. He proactively offers good ideas and we never need to chase for project updates. We have also benefitted from the input of senior partners David Phelan and Joe O'Malley, both outstanding practitioners in this and other commercial fields.'
David Phelan, Joe O'Malley, Matthew Austin, Laura Fannin, Jeremy Erwin and Cian Clinch recommended.
Back to Full News
---
Share this article:
---