Corporate
At Hayes solicitors, our corporate team led by Ken Casey has extensive expertise and experience across a wide range of transactional and advisory work. We are trusted business advisers to a premium quality, diverse client base which includes leading multinational and Irish businesses, statutory and public sector bodies, professional bodies and sports associations, banks and financial institutions, public and private corporations, private equity and sophisticated private investors, entrepreneurs, business and investment partnerships, charities, start-ups, small traders and new business ventures.
Our full range of corporate legal services encompasses mergers and acquisitions, disposals, fundraisings, transactional support, corporate re-organisations and business transfers, outsourcing and restructurings, joint ventures, partnerships, shareholder agreements, regulatory advice, company formations and related company secretarial support, corporate governance and a broad range of corporate law advisory matters.
Our corporate restructuring work includes advising organisations that are increasing or decreasing their workforce, or reassigning roles and responsibilities to meet new challenges or opportunities. We have significant experience in advising on business transfers and divestments, rationalization and outsourcing arrangements.
We adopt a long-term approach to client advisory work as trusted advisers to you. Our senior lawyers are available to deliver expert legal advice with a focus on strategic, pragmatic advice tailored to the needs of your business.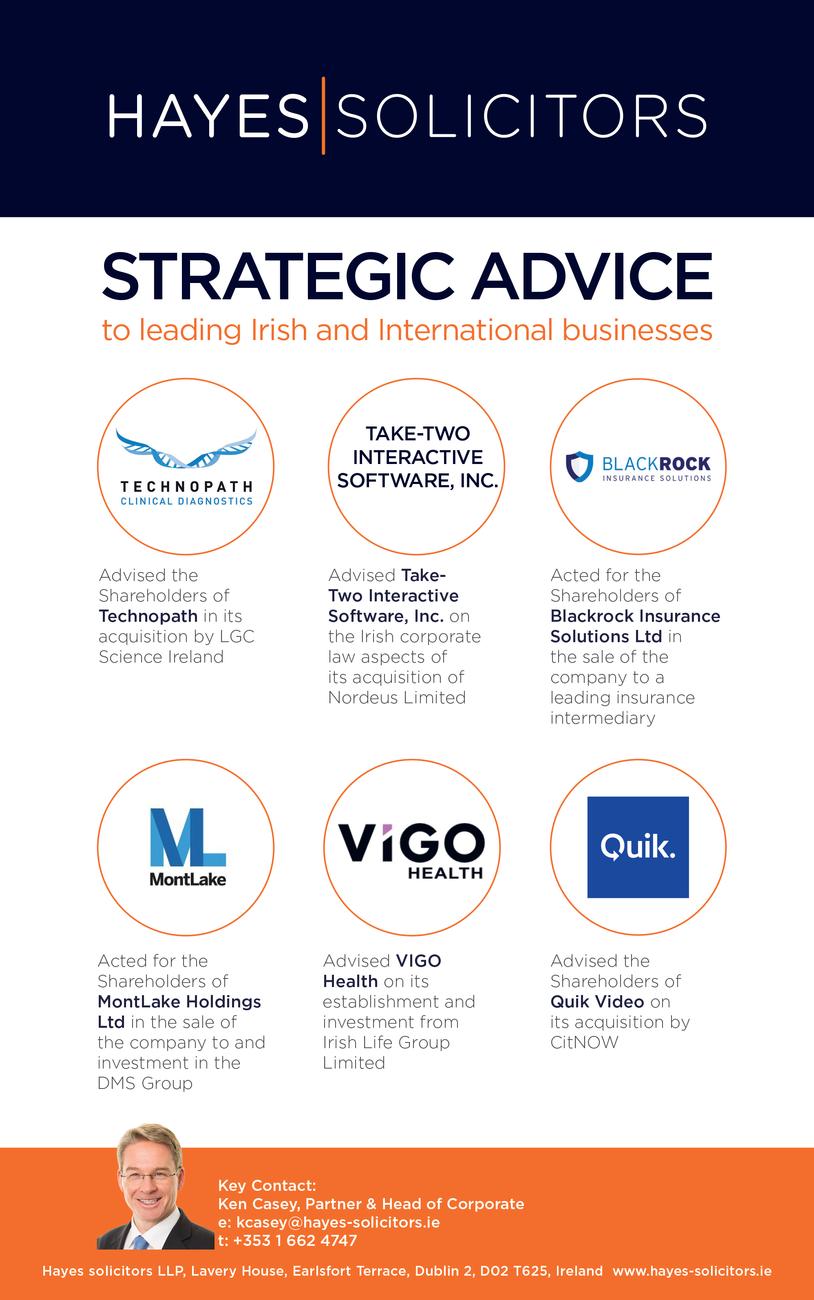 Services
Our services include:
Mergers and acquisitions
Disposals
Fundraisings
Transactional support
Corporate re-organisations, including business transfers and divestments, rationalization and outsourcing arrangements
Outsourcing and restructurings
Joint ventures
Partnerships
Shareholder agreements
Regulatory advice
Company formations and related company secretarial support
Corporate governance and a broad range of corporate law advisory matters
What clients say: Corporate
"Strong customer focus with welcome emphasis on getting the 'right' deal for their client and not just any deal. Calm under pressure while providing a clear road map to achieve a great outcome."
Throughout my dealings with Hayes, I have found that the timeliness of responses and the information provided has been to a high standard at all levels.
"Very knowledgeable, professional, focused, see the big issues, friendly and easy to work with"; "Practical approach with balanced views to reach equitable solutions"; "Very client-focused and pragmatic. Reasonably priced. Hands-on."
A one-stop shop for foreign companies with a presence in Ireland. Very reachable and hands-on approach.
"Excellent commercial and legal advice on the share purchase agreement"; "A lot of experience in M&A and gave a lot of support and guidance during the process"; "Attentive, Pragmatic, Attention to detail, Clear advice."
They understand our business. They will go that extra mile to ensure they deliver what we require. They respond quickly, sometimes at very short notice, and follow up afterwards.
"Partner led and available, with a strong team behind the partner"; They are "very commercial in application while guiding the client through the key issues and always make themselves available at the shortest of notice."
"The team was very approachable and easy to work with. They took a very commercial and practical approach to the project, and we were able to get access to big firm knowledge and expertise in a smaller, more personal environment. As Hayes is a full-service law firm, the team were able to bring in experts in other areas as needed."
"They go beyond just answering the questions you have to really understand the context of the situation to ensure they give the best advice and service."
"Efficient, responsive, thorough and trustworthy. They punch way above their weight."
"The team is responsible, practical and commercial in their approach. The friendly, down-to-earth approach is refreshing and encouraging."