by Ciarán O'Rorke May-12-2014 in Healthcare Law, Litigation & Dispute Resolution, Events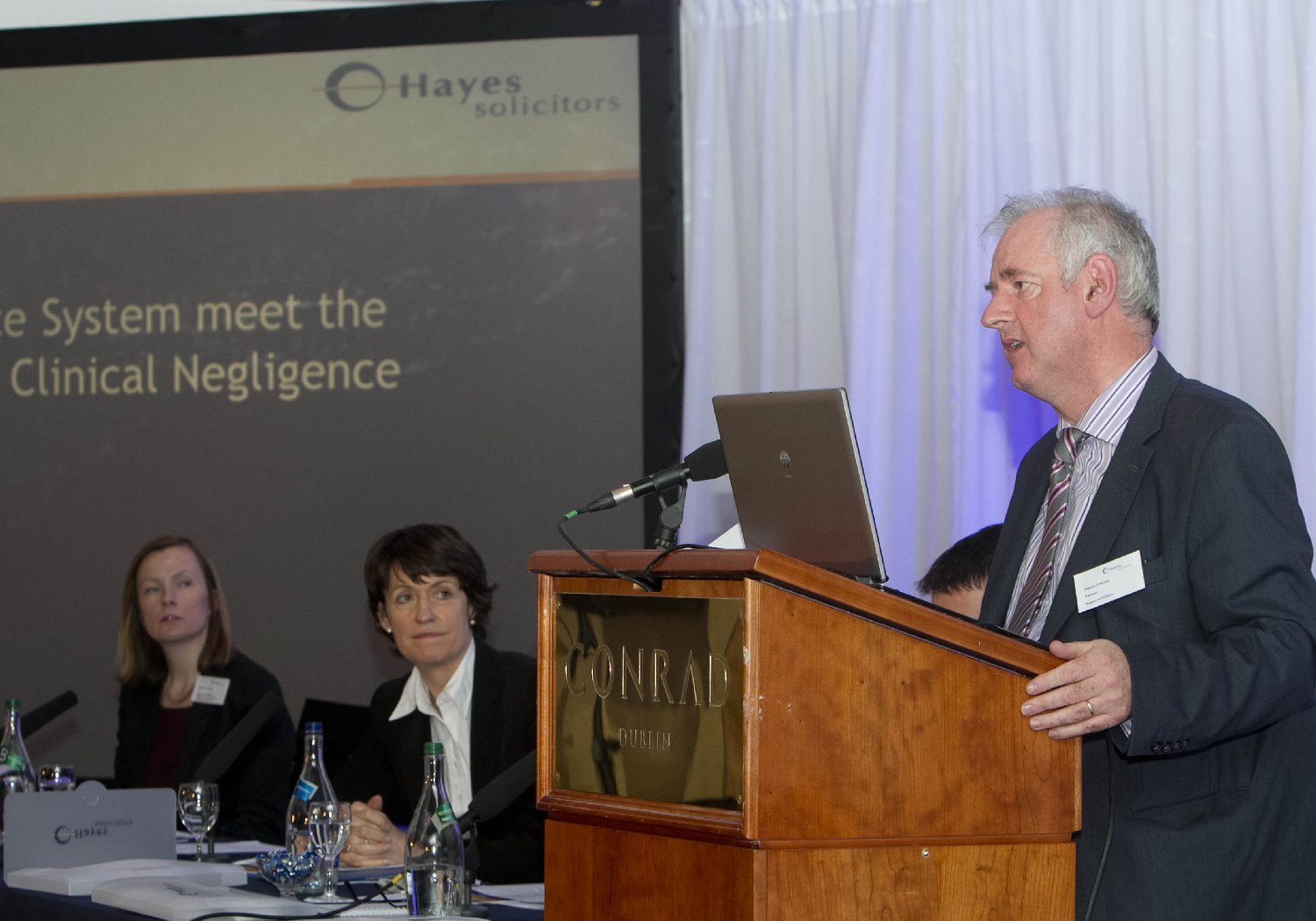 Hayes partner and Head of Healthcare Ciarán O'Rorke outlines the need for reform
Hayes solicitors hosted a major conference on the need for radical reform of medical negligence litigation in Ireland. The event took place in the Conrad Hotel, Dublin 2 on Thursday, 8th May 2014 and attracted media attention, including an item on the RTE Six One News. View the conference agenda here and a newsletter covering some key issues here.
Both plaintiff and defendant stakeholders were present in the invited audience of more than 250, including representatives from hospitals, medical and dental practices and professional bodies, patient advocates, state agencies, insurers and law firms. Speakers shared unique perspectives from their practical experience of working with clinical negligence litigation from their vantage points as defence and plaintiff lawyers, judges and indemnifiers.
The conference addressed the widely held view that the Irish system of conducting clinical negligence claims is not fit for purpose. Chairing the conference, Judge Mary Irvine of the High Court set the scene by describing the system of awarding a single lump sum payment in catastrophic injury cases – rather than annual compensation payments over the course of the injured party's life - as "unjust, ineffective and…Dickensian". Practical reforms proposed by the Working Group on Medical Negligence and Periodic Payments, established in 2010 and currently chaired by Judge Irvine, have yet to be introduced. These reforms were outlined in three Working Group reports: Periodic Payment Orders (PPOs) (October 2010), Pre-Action Protocols (March 2012) and Case Management (April 2013).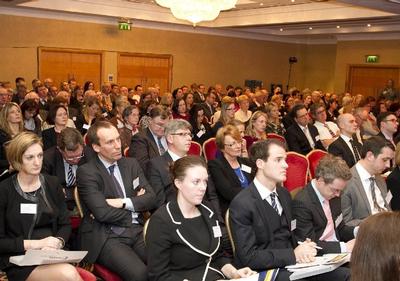 Comparisons between the English and Irish systems were a strong theme. Justice John Quirke, the Working Group's first chairman, offered his personal views on the key issues and likened Ireland's current clinical litigation system and adversarial culture to that of England and Wales in 1996, when Lord Justice Woolf initiated the introduction of key reforms including pre-action protocols and case management. Justice Quirke voiced his frustration at legislative delay in introducing reforms which, if enacted now, would mean "we can at least say that we have reformed clinical negligence litigation in a manner that falls significantly short of what was overdue 18 years ago".
Hayes partner Ciarán O'Rorke, head of the firm's Healthcare Department and a member of the Working Group, offered his practical observations on the need for reform in five key areas: open disclosure, a pre-action protocol, case management rules, PPOs and a change in litigation culture. Change must focus on the ultimate purpose of resolving cases fairly and efficiently – the human story is key. "We must not forget the emotional and personal impact and the burden on both the plaintiff and the defendant. So the goal of reform is to pave the way to early resolution of the claim that is both just and fair to both parties," he said.
Helen Vernon, Director of Claims at the NHS Litigation Authority (NHSLA) told delegates that periodic payments offer certainty and security to relatives and are financially more predictable and manageable. The NHSLA's £1bn annual budget would be doubled if one-off lump sums were still the norm. The system has achieved its aim of reducing litigation, with 70% of claims resolving without litigation with those involving less than £25,000 typically concluding within a year.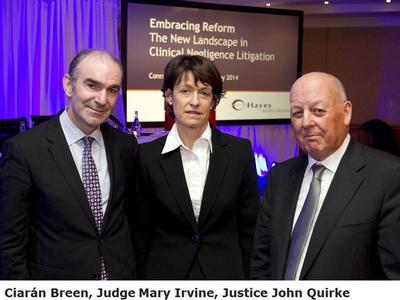 While Ireland awaits the introduction of legislation allowing PPOs, Ciarán Breen, Director of the State Claims Agency (SCA), informed the conference that "considerable technical work" has been done on the financial modelling required to put the new system in place. Mr Breen told the audience that less than 3% of the SCA's portfolio of clinical negligence cases go to formal trial, around 55% of cases are settled pre-trial, and around 20% are either discontinued or withdrawn. This puts recent media suggestions that the SCA operates a "defend and deny" strategy at all costs into perspective – "nothing could be further from the truth", Mr Breen said. The SCA has a statutory duty to robustly examine the issues in these complex cases and to challenge cases when it believes the settlement demands of plaintiffs "are well beyond the value of the case". Mr Breen outlined how the SCA fully is supporting moves towards reform of the litigation system, highlighting the SCA's joint initiative with the HSE to introduce a culture of open disclosure which is already active in 46 hospitals around the country.
Emma Hallinan, Director of Claims & Litigation at the Medical Protection Society (MPS), focused on the need for cultural change around clinical negligence claims. With around 15,000 medical members and 2,500 dental members in Ireland, the MPS is a leading player in clinical negligence claims in the Irish system. Ms Hallinan said pre-action protocols in England encourage a high degree of cooperation between both sides to the claim and underline the practice by imposing penalties for non-compliance. MPS comparative data shows around that close to 70% of claims were resolved during the pre-action phase in England compared with just over 20% in Ireland.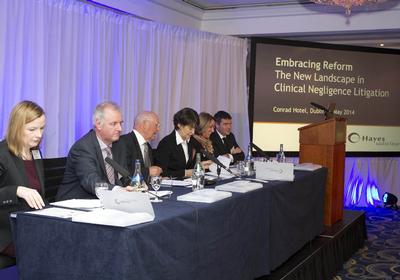 Lisa Jordan, a partner with Irwin Mitchell solicitors in Birmingham, offered a fascinating insight into the motivations and expectations of claimants in the English system. She emphasised how her clients - claimants in clinical negligence cases - are often motivated as much by a desire for an apology as by their need for compensation. Claimants in England are unlikely to get their day in court – even as a leading practitioner with more than 20 years' experience Ms Jordan has only had two cases that reached court. She leads a team of 197 people handling 6,000 clinical negligence claims in what she describes as a less adversarial and more open process that leads to speedier and fairer resolution of claims without recourse to the courts.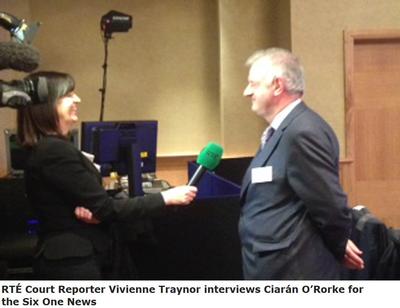 In a lively questions and answers session participants from the medical and legal professions engaged the speakers in an informed debate that reflected the depth of high-level practical experience represented at the event. Comments from participants emphasised the positive effect of providing a forum focusing on reform and their desire to build momentum for change. Participants welcomed the conference, with representative comments such as "a top-class meeting with excellent and informative speakers and good discussion" and "it was varied, interesting, and informative and because there was such a large and varied attendance, it was a really enjoyable afternoon. The scope of topics covered kept us all interested and will help to renew interest and enthusiasm for managing medical negligent cases in a more efficient manner."
Hayes solicitors is committed to maintaining the momentum towards reform of clinical negligence litigation and would like to thank all the speakers and participants for their contributions to a successful event. For further information on the conference and its themes, contact Ciarán O'Rorke at cororke@hayes-solicitors.ie or any member of the Hayes healthcare team.
Back to Full News
---
Share this article:
---
About the Author

Ciarán O'Rorke
Ciarán is a consultant in the Healthcare team at Hayes solicitors. Ciarán specialises in medical negligence and has more than 30 years' experience of acting on behalf of healthcare professionals, doctors and hospitals in medical and dental actions. His experience of complex high value claims includes many of the major brain damaged infant and cerebral palsy cases.