October-23-2023 in Events
Application Process
The Hayes Trainee Solicitor Programme for 2024 is open for applications until 27 October.
Our two-year programme is designed to enhance legal knowledge and provide important insights on how a law firm operates
Apply here - Trainee Solicitor, Dublin, Full-Time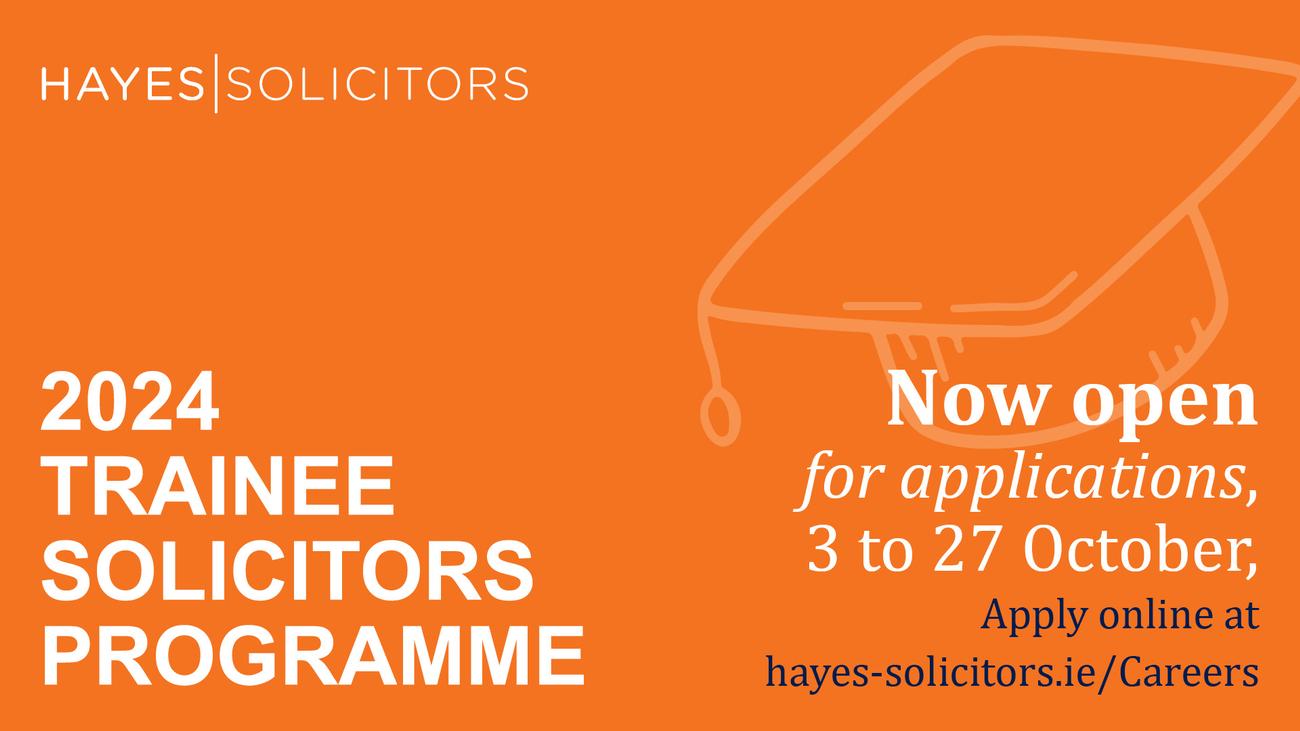 ---
Trainees
"Our trainee programme provides for a highly motivating, supportive and rewarding trainee experience. We want our trainees to get high quality and practical experience in all of the key practice areas in order to become an expert solicitor and advisor with excellent base experience across a range of areas. We are very proud that our trainees have progressed to successful careers, many within the firm and others in industry or other firms. As a former Hayes trainee, I can attest at first hand the enormous benefits of our trainee programme and how it shapes our candidates for a successful career."

- Joe O'Malley, Managing Partner
During your two-year training programme with Hayes, you will work in a number of different practice areas, building your legal expertise through working closely with the firm's partners, associates and newly-qualified solicitors. You will be invited to attend and participate in team and client meetings. Our programme also provides you with the opportunity to attend a series of internal presentations by lawyers and members of our business support teams. These are designed to enhance your legal knowledge and provide you with insights on how a law firm operates. There are also regular social events organised by our active Social Committee, which will give you the opportunity to meet everyone in the firm.
Trainee Experience
Cian Clinch, Partner in our Commercial and Business Team, talks about his experience of being a trainee at Hayes:
"Hayes is a great firm to work for. As a trainee I worked for a number of different departments within the firm, in the process gaining an insight into the firm's practice areas and what being a solicitor in the firm would entail. That experience provided me with exposure to different areas of law and enabled me to discern where my main interests lay. On a practical level, I was given both considerable responsibility and excellent support and supervision from my supervising partners and solicitors in terms of the tasks allocated to me. Throughout my traineeship the level of responsibility given to me increased and this stood me in extremely good stead on becoming a fully qualified solicitor."


- Cian Clinch, Partner

Trainee Experience
Catherine Jane O'Rourke, Associate Solicitor on our Employment Law Team, took part in our trainee programme:
"Trainees at Hayes are given a fantastic insight into what life is like as a solicitor. From a very early stage, I was given considerable responsibility in terms of file management and assisting with the provision of legal advice, while always under the helpful guidance of my training partners and solicitors. The structured training programme meant I was given an invaluable opportunity to rotate across various practice areas. This gave me a better understanding of my own skill set together with the direction I wanted my career to take."

- Catherine Jane O'Rourke, Associate Solicitor
Back to Full News
---
Share this article:
---